I've been waiting to do this since Drama Mama first told me about it but, I'm late at linking up because I couldn't remember what day I was suppose to do it on. Imagine that. I need a calendar just to keep up with the link-ups!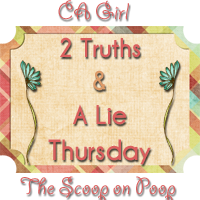 The deal is, I'm supposed to tell you 2 true things & a 1 one lie & you're supposed to guess what's the lie. Next week, I'll tell you the real deal.
2 Truths & a Lie
1. I was dating someone else when Retro proposed.
2.
I smoked pot one time in college.
3. Before I had children, I only wanted boys.
And here's a truth I'll tell you just because I'm nice...this is my 3rd post today! Crazy!!!