Do y'all remember the Not Mom of the Year contest hosted by
Life Without Pink
&
The Mommyologist
that Sass & I entered last week?
If not, you can read it
HERE
.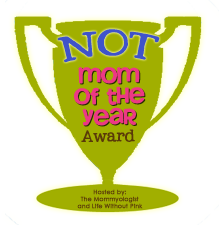 Well, guess what! We made the Top 10 Finalists!!! I told Sass that I was a finalist & she said "Told you so". Can 8-year-olds vote?
I had so much fun with this contest & have met tons of mommas who are just as Semi-Slacker as I am. Maybe I should start a club?
Sass & I have been going through some issues lately & writing this post together was really fun. She loved making fun of some of the stuff I do that drives her crazy.
So now I need YOUR vote! Go to Life Without Pink, stroll to the bottom & cast your vote for Semi-Slacker Mom.
Don't just do it for me, do it for Sassy!
And if you need further proof that I'm NOT Mom of the Year, this is what happened yesterday while I was smoking crack attempting to make a hot mess homemade play-doh.
Yeah. She's naked & yes, that's my living room rug! Just another Semi-Slacker day...