I just got a note from Sassy. If my scanner was working, I would totally post it.
Apparently she was not happy with tonight's dinner. I fixed spaghetti. She only eats the noodles & quite often I will make her a personalized pot. Tonight she had to share with the rest of us, well... me, Baby Girl & Aunt Crissy (Bo ate garlic bread & Retro just ate the sauce because he's back on the diet from hell Adkin's) & I drained the noodles, so "they were all stuck together".
So here's the note (remember she's not the best speller, so I'll translate):
Next Week's Menu
Sun pizza hut I hate pizza.
Mon masacn

(Mexican, I think) We have soccer, so that may be doable.
Tus

(Tues)

stak

(steak) I have Bunko, so you'll probably get McDonald's.
Wed hotdogs
We eat at church, so maybe I should pass this along.
Thu ptatos

(baked potatoes) Sure thing kid.
Fri tacos

Football game, so you're having a hotdog from the concession stand.
Sat crablegs!

(that she can spell)

Sorry it's your sister's birthday party, so you're having a hotdog again. or just cake. our choice.
I'm working on a post about my besties for this...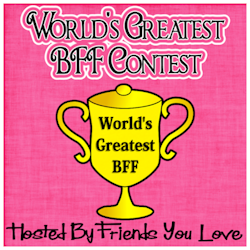 It's due by Sunday & posts that use brain cells take longer for me to write, but here's a tease...