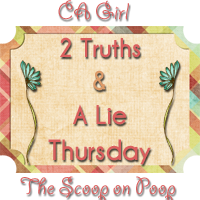 Last week, I joined up with Drama Mama on 2 Truths & a Lie, where I tell you 3 things & you pick which one is the lie.
Last week's Fact or Fiction
1. I was dating someone else when Retro proposed. - True!
And I'm so glad I made the right decision. I may have told that story on here before! If not, maybe I will one day.
2. I smoked pot one time in college. - False!
My IRL friend, Ashlee, figured out this one was a trick. It was really more than once. I think that's what's wrong with Sass. But that's another therapy session.
3. Before I had children, I only wanted boys. - True!
Everybody thought this was the lie! I remember telling everyone I wanting 3 boys! I just thought having girls would be too stressful & filled with drama, I was right. But having 2 girls & 1 boy turned out okay too.
Now, this week's 2 Truths & a Lie...
1. I wrecked a car I'd only had 2 days.
2. My favorite scent is Clorox.
3. I was a camp couselor for 2 summers.
Which one is the lie?
****************************************
Now, why I heart Miss Janice...
I won her fabulous G.R.I.T.S. giveaway. For those of y'all not from around here, GRITS means Girls Raised In The South. And I am definitily one of those, I haven't even visited north of the Mason-Dixon line.
Yesterday a big box of goodies was delivered, all decked out in
preppy pink & green!
And this was inside...
Sass snatched up the sample of Wink, faster than I could blink! I can't wait for these children to go back to school, so I can start reading my new books & now there's no excuse for me to not make my all-time favorite food, Shrimp & Grits! or for my Momma to make them for me. :)
I didn't model my new apron for y'all, but doesn't it look so cute hanging with my others in my kitchen?