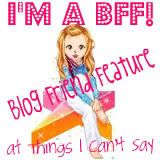 One of my favorite bloggers, Shell from Things I Can't Say, has chosen me as today's BFF! I am so excited! I feel like I've just won Miss Georgia! That's the most important because I think Miss America's kind of rigged. And I won't ever discuss Miss USA. How did I get off on pageants? I guess it's a Southern thang. My cousin was Miss GA by the way. I'm famous like that.
And that cartoon above, totally looks like me if she had blond hair. The other blond is Shell.
If you're new, read all of this week's post because between this, Blog Bash & Not Mom of the Year contest I have been pretty full of myself! I am a true smarta$$, but I do try to be a good momma. On Friday's, I usually do random thoughts because there's always tons of those floating around in my head. Some days, if you're lucky, you can read about our preppy redneck adventures, crazy trips to the pediatrician & drama-filled days. Trust me, there's never a dull moment around here!
*Bo slammed his finger in the bathroom door at church on Wednesday. I just knew we were going to have to make an infamous trip to Dr. K. But it's not broken, just a mushed nail.
*Retro's cousin is getting married tonight, Friday night weddings are apparently the latest thing. They are only having beer & wine, so I've got a to go bottle of vodka in my handbag. Wedding punch is always better with a kick.
*Speaking of vodka, I really want to try Belvedere. Chelsea Handler loves it, but I don't think they sell it at the liquor in Smalltown, GA.
*I'm not really a lush, I just don't get out much.
*I got the results from Sassy's tests (you'll have to look for that post) & the results were worst than I expected. Apparently, her brother picked up the IQ points she left behind in the womb. But I feel confident everything will work out. Somebody just may have to up my prescription!
*Bo's new favorite show, aside from The Backyardians (the littles may need a 12-step program to get over that one), is Fanboy & Chum-Chum. Who I call Fatboy & Dumb-Dumb, just to get a rise!
*I'm trying to break him of saying "Aww, God!" I thinks Golly & Gosh are dumb. I'll even take Nuts! I've hate to get a call from school because he keeps taking the Lord's name in vain.
*Speaking of school, the countdown is on...25 more days. I can't decide if I'm excited or dreading it!
*As always, if something in this post doesn't make sense, I reserve the right to claim insanity!