This week I really have something that I want to say, so I'm joining Julie at Foursons & her Letters of Intent.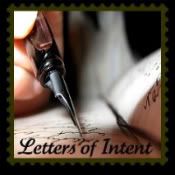 Dear Celebrity,
Did you not realize you are famous?
Are you not aware there are such a thing as paparazzi?
Did you really think you wouldn't get caught?
Are you a little (lot) bit tangled in that web you wove?
Seriously. Think about it. Everybody knows who you are & that you are married. And if you're seen with someone else (in Vegas, while your wife is at home with 2 babies) people are going to notice. You would think that wouldn't take a rocket scientist to figure out.
These tramps aren't in it because you are super awesome. You are very wealthy. And money talks. So does Us Weekly. And apparently they pay better than you.
Like Retro said, if you wanted to keep chasing skirts why did you get married? You've got plenty of money, you could get any woman you want. (well maybe not any woman, I wouldn't touch your arse with a 10-foot pole. I've never liked you. Nobody likes a showboat. And you knocked my man, Davis off his game. Whoa...where was I?)
Oh yeah. Just think, if you aren't married, you may can even get someone with a tad bit of moral backbone. or at least someone you wouldn't mind being scene sitting in the gallery at the Open.
Remember this at next year's Masters:
Cheaters never win & winners never cheat.
That's all I have to say about that.
*Jesper was right, she should have hit your arse with a driver instead of a 3 wood.*