This is my NEW favorite website!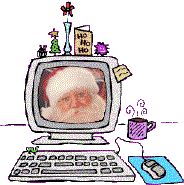 A letter to Santa Claus? Yes kids its true! Jolly Saint Nick wants to hear about you! From the North Pole Santa will send his reply... Faster than Rudolph the reindeer can fly! Merry Christmas!
Sassy has been questioning the validity of Santa Claus & at our house that is not cool! The kids know the true meaning of Christmas, so we know it's not all about Santa. But he is in the top 5!!!
So last night after stressing about this a bit, I decided she could email Santa. So I googled "email Santa" (How did we find out things before Google?)& found this web site! It's so cute! Lots of things for the kiddies to do. I emailed him a letter from Baby Girl & the response was so cute. You can even print it out for the "things to scrapbook" box!
**This isn't quite as good as the "Letter from Santa" that our friend, Katey has sent the kids for the last several years, but it's pretty good!**
Santa even has a blog! Should I send him my link?
I can't wait to show Sassy this site. Maybe she'll give Webkinz World a break for a while.
How do YOU keep a 7 year old believing?