Today is the 1 year anniversary of Shell's Pour Your Heart Out. This has been such a wonderful addition to the blog world.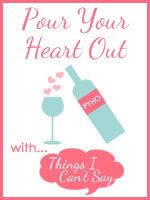 She quoted me, along with several other bloggers, saying this about PYHO-
I don't participate much because, well I'm not that sweet & I really don't hold things in. Plus, I'm more sarcastic than sappy. Not that all the posts are sappy, but some WILL make you cry.
But seeing that it's Shell's anniversary & something deep did happen this weekend that I want to share, I'm joining in.
The last time I linked up with PYHO, I wrote about my mommy guilt associated with the medical-ish problems I've passed down to my daughters; Baby Girl's urinary tract problems (which she is having surgery on tomorrow!) & Sassy's ADD.
This time I'm talking about a different kind of mommy guilt.
Have you ever be so mad at one of your children that you just had to remove yourself from the situation?
If we're friends on Facebook (if not, it's Semi Slacker) then you might know that Bo busted my laptop screen on Sunday afternoon. He got mad at the computer

which he shouldn't have been on in the first place

because it wasn't doing what he wanted it to do

because he's 6 & thinks he's a computer genius

& he punched the screen. I don't know where he gets that temper

his father, my brother

because I'm totally calm

& yell & scream & cuss

.
Everyone else was outside working in the yard

where he should have been

& he comes out & tells me "Mommy, I did something bad to your computer." I'm thinking he just pressed some button & something weird happened. No. I take one look at it & know it's ruined. (My bestie had the same thing happen a month or so ago.) I was FURIOUS! And that's probably an understatement.
I was so mad I don't even know what I said. I'm sure I dropped an f-bomb or 2, asked if he's lost his mind, I don't think I called him stupid, but I can't promise. Then I proceeded to spank him. I hit him till my hand hurt. But I don't think that did too much damage, because I'm pretty weak & it doesn't take much to make my hand hurt. Then I sent him away "because I just can't look at you right now".
I was crying & went to tell Retro. The girls backed away because they knew I was pissed. Retro, on the other hand, didn't make as big a deal out of it as I wanted him to. Probably because it wasn't his, he didn't pay for it & he didn't really like it anyway. He banned Bo from the remaining desktop computer, I added FOREVER, fussed at him, told him he was going to throw him in the pond (which was really just a joke, but Bo was scared

not really

). Then we made him do work in the yard.
Bo is the one child that rarely gives me any trouble. The girls I yell at all the time. If you're a momma with boys & girls you probably understand. It broke my heart to be so mad at him. I'm still very disappointed in him. My momma was teasing me & said 'the favorite child isn't the favorite anymore'. But she is kind of right. Now they ALL get on my nerves! (insert smirk)
The mommy guilt I'm having now is, I'm bad about holding a grudge & I feel like I'm holding one on my child.
*I also burned my boob cooking dinner that night. FYI- If you have big boobs, don't cook with a low cut tank top on. Lesson learned.
**I know you all can't wait for my post regarding the sex survey.
I have to compile all my "research", so it should be ready on Monday! If you haven't answered there's still time.