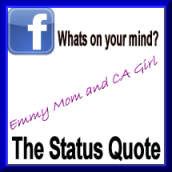 What are your friends saying on their Facebook pages. Or Twitter? Is it funny? Is it weird? Is it what they ate for dinner? Well share it here on The Status Quote with
CA Girl
and Emmy! Simply post those funny, strange and daily posts of your friends. Please exclude names and locations. And then, link up!
It looks like Halloween vomited across the street from our house, stupid rednecks.
We just got slapped around in Columbia.
Jesse James, Tiger Woods & Favre walked into a bar...
At the fair. Hotdog!
Pink, pink, pink!!
Enjoyed my New Wine tonight.
is grossed out that Henry is eating an apple to make his tooth come out. Seriously. Wait til your daddy gets home!
People are weird.
is almost completely harmless
TURKEY & DRESSING, BAKED HAM, SWEET POTATO SOUFFLE, BUTTER BEANS, MUSTARD GREENS, & RUTABAGAS. TODAY'S SPECIAL IS CHICKEN SALAD CROISSANT~
is having issues this morning...hoping coffee will fix it.
*I'm posting twice today! Good thing it's not lightening.*