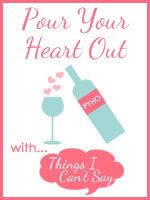 This week I'm letting my IRL friend Pour her Heart Out. She has become a part of something I believe several of you can relate to & benefit from its support system.
Thank you Semi-Slacker, for inviting me to write a guest column for your fabulous blog!
Some of your readers already know me. Some don't. I'm
Jana
and I've been a friend of Semi-Slacker's for years. My husband and I suffered an unimaginable loss a little over 7 years ago. Our first son, Charlie, died at only 24 days old from late-onset Group B Strep. He was perfectly happy and healthy until his 20th day of life. Over the next four days, he suffered strokes, sepsis and meningitis and on Saturday, June 14, 2003, our gorgeous little guy became an angel in our arms. This day would shape the rest of our days.
Since that time, I have jumped around from thing to thing trying to find my place. I've been an active board member at the Ronald McDonald House of Central Georgia, The Children's Hospital at the Medical Center of Central GA; I've talked to families who have lost babies and older children. I've been there for people suffering losses of any kind. I am, by nature, a very caring and nurturing soul. I want to help everybody but have never found the "right place."
Until I met Aunt Becky.
Becky, aka
Mommy Wants Vodka
, was starting this great site called Band Back Together. I offered my story and a few posts and have now found myself right at home as an editor of this group site. It may be the proudest I've been in a really really long time. And I feel like Charlie is sitting on my shoulder supporting what I'm doing.
Band Back Together
is a group blog where ANYone can contribute their story of heartache, frustration and even victory. In the week since its launch, we have had over 130 submissions posted. People are LOVING it! We have stories about abuse, adoption, divorce, miscarriage, child loss, chronic illness, addictions, lyme disease, birth defects, military deployments... the list goes on and on. You'll have to register with a Wordpress account but can be as anonymous as you wish. The site is completely moderated by the editors so troll commenters are not tolerated. We are there to support, not to be knocked down.
We invite you to come on over, pull up a chair, grab a drink, put on your leather party pants, turn the music up and help us get the Band Back Together! We have to all support each other and work as a team to slay our dragons.
You can visit Band Back Together three ways:
Website
Twitter
Facebook