Did y'all think I'd stopped blogging? Well I haven't, but life has been getting in the way a lot here lately.
I'm pouring my heart out today.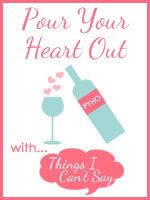 This post has been in my head since Saturday, but like I said, life has been getting in the way.
Do you ever feel like you just need to get away from your children?
This weekend, I was in that state of mind.
Retro has finished with peach season & while he waits for pecan season to start, it's GOLF season. He is a very good golfer, he even played in college.
I know he works very hard & provides very well for us & he deserves a break, but hell, what do I do!
Wednesday evening, he played. I took Bo & Sass to church & Baby Girl to dance.
Thursday afternoon/evening, he played. I did homework & refereed children.
By Friday night I was really needed a break & knew he was going out of town on Monday. Retro was going to take me out. At this point, I didn't care where as long as I could get a drink. Nobody was available to watch the children. Can't say that I blame them.
So surely on Saturday, one of the grandparents or SIL would be available. And they were. All of them. But guess who went to the GA game. Retro. It was a 12:30 game & they could have left in the 3rd quarter. But conveniently, he didn't get home till 8 o'clock. Because he & his dad had to work on something, because they had decided to go on their annual golf trip a day early.
Sunday morning, he's rushing around to pack his clothes & wanted me to iron 10 pairs of shorts & several shirts. You think I did it? Hell no. I did however, refuse to let him pack a pair of white linen Polo shorts. He would wear them after Labor Day if I did. So along with my MIL & SIL, I took the children plus Sassy's friend to a family get-together for his side of the family! The same family who hosted the wedding he didn't attend.
The place they are staying is a golf resort (near where Carrie Underwood got married) two hours away. Even his BFF from college thinks this is dumb. But it's his "vacation". You know I had my "vacation" when I took the children to the beach. How fair is that?
Plus Baby Girl has a fever & a smoker's cough, so she hasn't gone to playschool the past 2 days.
I would love to go on a girls weekend with my friends, but we are all so busy raising children we are even having a hard time fitting in our monthly Bunko game. I do have several upcoming events (we have something on the calendar every weekend in September & October) that require a babysitter & feature booze, so I'm pretty much good to go.
But if anyone's interested, I'm free in November. I may have to throw myself a birthday party.
*please don't dog on Retro, it hurts his feelings, then I have to listen to it*
*I failed to mention that he made his 1st hole in one on his trip.*

he asked for some "air time"