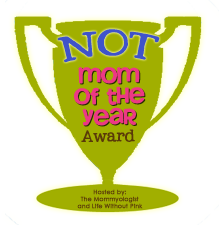 Life Without Pink & The Mommyologist are hosting "Not Mom of Year" contest & according to my children I totally qualify.
Instead of me telling you why I'm NOT Mom of the Year, I decided to let Sassy (my 8-year-old daughter) guest post since she tells me I'm the worst momma ever! every day.
My Momma is NOT Mom of the Year because she won't buy me an Ipod.

She has an MP3.

She totally embarrasses me when she tries to sing.

It's not like I do it in public.

She acts like I'm invisible & she cares more about Bo.

Y

'all read this blog, what you think?
She's not a good mom because she makes me go to bed at night so she can blog or watch Keeping up with the Kardashians or something.

Like have some peace.

She won't even let me sleep with her. She wears tshirts, black pants & no makeup to my school.

Not on important days.

She goes to Bunko all the time & leaves me with Daddy.

once a month

She yells all the time & even says the D word sometimes.

She's got me on that one.

She makes me clean the house.

whatever.
The only decent thing she cooks is spaghetti without the sauce. She doesn't care if my brother wears the same clothes for 3 days or my sister's hair looks like a homeless child's. She won't let me get a cell phone & Bo gets a TV in his room & I don't. Plus his room is bigger & I have to share a bathroom with my sister.

Anyway.
She has parties with her friends & drinks wine & we have to go to Gammi's or Babsy's. or have a babysitter. I don't drink wine. My brother & sister always eat all the chocolate ice cream & good cereal. And Baby Girl eats peanut butter out of the jar. Oops.
She always says we're the reason she has to take her happy pills & she says I need some too.

True.

She always blames me when she gets mad.

But who gets the least amount of spankings?

And she always fusses when I wear her clothes & shoes

for dress-up

& borrow her purses

like my

LV Duffel

. All she cares about is that stupid blow-up pool because we don't have a real one.

Just waiting on the go ahead.

And she hardly ever lets me drive the golf cart.

Her daddy doesn't want her driving it at all.
The only good stuff she does is let us eat McDonald's & Chick-fil-A sometimes.

Quite often.

And sometimes let's my friends spend the night.

At least once a week b/c she doesn't like to spend the night away.

And s

he buys me stuff that I want.

yep.
When I have kids
I'm going to be a good mom.
She's apparently not familiar with the "I hope you have a child that acts just like you" curse.
So you got it from the horse's mouth, I should totally be NOT Mom of the Year.
*my commentary is in the lime green*