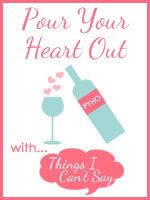 This week I want to share with y'all the story of my friends, Craig & Amy. I have known both of them since high school, I even dated Craig for a little while, & right now they are in search of a sweet baby girl that needs a wonderful, loving home.
I offered them one of mine, but they're damaged goods (because they live with me) & I warned them about Girl Drama & I even questioned their sanity. But they have their mind set. They want to share their life & their family with a baby girl.
I think this is such a wonderful gift, to be able to open up your heart to a complete stranger. I also think it takes a special type of person to adopt a child. I hate to admit it, but I don't think I am that person. Fortunately, my friends are!
I know that there are many circumstances that can be overcome through adoption. And the fact that I was fertility-challanged somewhat clouds my judgement of these circumstances. I'm not all that familiar with adoption except that my parent's best friends adopted their son who grew up like my little brother. And his adoption was never discussed. I don't even know when I found out. But the Gilstraps, like my friends, are that special breed of people that make wonderful adoptive parents.
Hello! We are Craig and Amy.
Thank you for considering us as adoptive parents for your baby girl. What a blessing it would be to have your child in our home. We know that she will bring us so much joy and happiness. The loving decision you are making must be so very difficult but we trust God will guide and direct you in making the BEST choice for her. Above all, we admire you for choosing life for this precious child--- a gift from God!
Let us tell you a little about ourselves…We have been best friends for 18 years and have been married for 14 of those years. We were high school sweethearts. Over the years our friendship, love, and faith have deepened. After high school we both pursued our dreams in the medical field. Craig is a Registered nurse and Amy is an X-ray technologist. After 3 years of marriage we decided to start a family. We have 2 wonderful boys Christian 11.5 years old and Owen 8.5 years old. They are great kids and will be great BIG brothers.
Craig likes to fish, play golf, run and cheer on his favorite football team the Atlanta Falcons. He is a great fan! We often attend games together as we are season ticket holders. He is so excited about a little girl to love, care for, and teach her about the Lord. I know that she will steal his heart and have him wrapped around her tiny little finger as soon as he sees her. I know he will be a great daddy to her because he already is to our boys!
Amy enjoys shopping, running, and camping with the family. Amy's best quality would be her caring personality. She has a huge heart and always finds the "good" in situations, and people. She always has a smile on her face no matter how the day has been. Being a mother comes natural to Amy, with her nurturing and loving nature. Amy is involved in all our kid's activities. Whether it is sports, camping, fishing, etc…. She is often the mom who cheers the loudest at their sporting events. She is so proud of her children.
Our family is very active. We love to watch our kids play sports and they are very involved in all of them. Christian enjoys playing the drums at school, basketball and soccer. Owen loves to play football, basketball, baseball, and soccer.
Our home sits atop a hill on a street of 14 homes with a cul-de-sac. It is a 2 story home that has 4 bedrooms, one which is a completed nursery awaiting a little girl. (We have been a little excited, can't you tell!) It has 2.5 baths on a wooded lot. We have a large backyard equipped with a great play set for kids that Craig and Amy's dad built together. Our neighborhood has a lot of children of all ages that get together and play.
(Including my niece & nephew!)
Our relationship with God is the most important thing in our lives. We feel that God is leading us to grow our family through adoption. We both were raised in Christian homes and will raise our children with strong Christian morals. We feel that a little girl will complete our family. We have so much room in our hearts for another child in our family. We already LOVE her and will always make sure she knows how much YOU love her too. She will know the gift of life that you gave her and the sacrifice you made to place her in our family.
Our Prayer
We pray that God will guide you as you make this difficult decision. We know that God has a plan for your life and also for ours. We joyfully put our trust in Him and know that He will direct you in choosing the right parents for your child. We pray for you, your child, and the choice you have to make.
With much love,
Craig and Amy
If you are reading this & you, or you someone you know, is looking for the perfect home for the baby girl they are carrying, please consider this wonderful family. You can contact them at craig.tribble@cox.net or by phone at 478-956-7726.
****************************
Please consider voting for me for the NOT Mom of the Year contest! You can read my (or rather Sassy's) post HERE or just go HERE to vote!