Once again it's... *insert drumroll*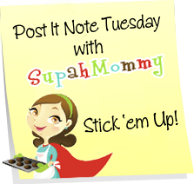 Sorry for my absence lately, I've been having some MAJOR computer issues! If anyone talks to Ron at Dell or Robert from AT&T, tell them I said hey.
Happy Tuesday!
Thanks for your comments about the ovary thing. If anyone needs one, I'll donate! But she's a pain in the arse. well... really side.