You'll never look at a Post-It note the same way again!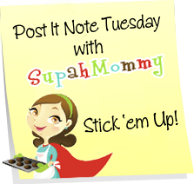 Guess what I'll be doing this weekend!
Does anyone know how to make a 2nd grade style rocket? Seriously.
She is sending me this! How sweet is that!?!
Will I not be the coolest momma at T-ball?
In PAISLEY! Have a mentioned how much I love paisey?
What's the best kind to blog with?
The one I hit. He's fine now! PTL!
He finally threw away the last of his favorite kind of boxers. Apparantly, not all boxer shorts are created equally. Even if they look exactly the same & come from the same store. He's likes them big in the bum.