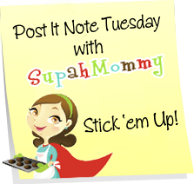 * Our local CFAs are offering a free breakfast item every Tuesday in March! Isn't that nice? Today was Chicken, Egg & Cheese on Sunflower Bagel. Didn't eat the egg, but could have eaten 20 bagels!
*Bo has been singing the theme song to Girls Next Door. I was kind of embrassed until I heard it on Alvin & the Chipmunks.
*Teacup pig was on How I Met Your Mother last night. It was kinda cute!