Every Wednesday Chief hosts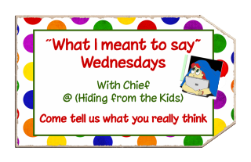 but I never follow her rules, but she doesn't care because she's cool like that, so here's my version. Hold tight on this one, it's been a long time coming.
She may look sweet & innocent (sometimes she really can be) but let me tell you, she is one of the main reasons I'm medicated.
Sassy

is in desperate need of having her tiara knocked off. At this point, I don't know if she will make it to "the teen years". Between her mouth & thinking she's too good, I don't know how much more I can take.
What kind of chores do your children do? Specifically your tweeny daughters. I need to know!
This clock is fixing to strike 12 on Cinderella Sassy. She apparently thinks I am her servant. She fusses when I make her clean up after herself, but less help around the house. Yesterday, I walked into the kitchen & a box of Lucky Charms was on its side with cereal spilling out on the counter & onto the floor. I thought it was one of the littles that did it. I would expect something like this from a 3-yr-old, not an 8-yr-old! I was pissed.
This is the same child that thinks she needs an I-pod, a TV, a cell phone & whatever else is on her mile-long list! My baby does more to help than she does.
What I say: Sassy if you unload the dishwasher, I'll pay you... If you get the clothes out of the dryer, (I didn't even say fold them) I'll buy you... (When she refuses, the baby does these chores.) Followed by a few choice words & threats.
What I meant was: Unload the dishwasher, get the clothes out of the dryer & put the clean ones in & I'll let you continue to live here & eat my food & go to private school.
And don't give me that smart arse attitude. There's only room for 1 in this family & it's me. You will treat me with respect. I'm your mother not your friend, so I could give a rip if you like me or not.
And I do not like your brother more than you. He listens (& he can't even half hear) & does what I tell him to. If he disobeys, I only have to jack him up once before he gets the picture. As for your sister, granted she has an attitude but at least she knows who's the ringmaster of this circus.
Sometimes I say what I meant to say, but apparently it hasn't sunk it yet.
At the beginning of the year, SHE came up with a chore list for herself & her siblings. Well, that went over like a lead balloon. The littles participated, Sass notsomuch.
Now, I have had enough! I am fixing to drop the freakin' hammer! I know they all are spoiled & it's partly my fault for not following through with my threats, but no more. This time I'm serious! I may can deal with the mouth (to an extent) because she gets some of that honest, but if I have to put up with that, she's going to start working or I'm not buying her another damn thing. Except maybe some Silly Bandz.
So, what kind of chores do your children do?
And if you've got any tips on controlling her mouth, I could use those too.
Momma- The comment section is off for you.